This GRAB AND GO Cardio Trauma Bag Contains Everything You Need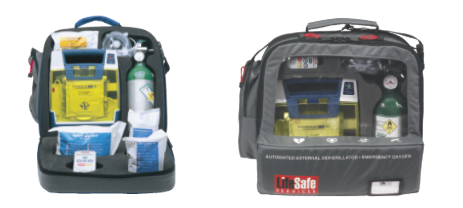 The Cardio Trauma Bag holds all the necessary components to perform the important first steps required to save a life:
Your Purchased, Owned or Leased Automated External Defibrillator (AED)
Portable Emergency Oxygen Inhalator with Resuscitation Mask
First Aid Supplies*
Personal Protection (Body Isolation) Supplies*
Bloodborne (BBP) Clean Up Supplies
AED Semi-Annual Inspection and Maintenance
Oxygen Semi-Annual Inspection and Maintenance
You may also want to include:
AED Workplace First Responder Training (2 year certification)
Adult CPR Training (2 year certification)
Emergency Response First Aid Training (2 year certification)
Bloodborne Pathogens (BBP) Compliance Training (1 year certification)
Emergency Oxygen Administration Training (2 year certification)
*Meets OSHA, ASTM and ANSI Standards
AEDs and emergency oxygen help to save lives around the world.  Emergency Medical Services (EMS) simply may not be able to respond in time to save your co-worker or visitor.  The Cardio Trauma Bag provides the bridge you quickly need until EMS arrives.
An emergency event can be confusing and disorientating.  The Cardio Trauma Bag was designed to easily carry everything you need for a quick response time to an emergency event.  Weighing only 18 pounds, the Cardio Trauma Bag is light enough that the smallest person in your office can carry the bag throughout your building.
AEDs dramatically increase the chance of surviving a heart attack, which is why they are so common in places where people gather or work.  But, did you know that emergency oxygen is 300 times more likely to be needed over an AED?
We believe these tools, along with health & safety training, are crucial steps to ensuring a safe work environment.
Contact LifeSafe Services Representative and choose the Maintenance, Purchase or Lease option of your AED model for your Cardio Trauma Bag!